Wellspring 2005: A Festival Review
Wellspring 2005 (May 26 - 30, 2005)

I admit it: I was waffling a bit on Wellspring this year. Everyone knows the drill: go, get cold, get wet, wish you were somewhere else, right?

Wrong.

Oh, so wrong. So wrong I'm embarrassed of myself.

This year's Wellspring blew away my idea of what a festival is supposed to be like. The weather was generally warm, it rained one morning out of five days, and the fellowship? Dear Gods, I can't begin to describe it!

The festival included several Guild competitions. First, the Warrior's Guild held their finals at this festival, and those games were quite enjoyable. I broke with my usual avoidance of the games and participated in a few, mostly just having fun. Rodney Cox and I managed to entertain a few people doing shirtless archery, too. I didn't manage to see the Artisans Guild competition, but the occasional piece I saw at the Sumbel was quite good. Also, the Brewers had a competition, and as usual they managed to get many people a bit tipsy. Oh, and it tasted great, too!

One of the best things about Wellspring is that you always get to meet those people you always talk to on the lists or over email, but never see in person. The size of the festival makes this quite easy, actually, as this is the largest of ADF festivals. Also because of the size (and it's standing as the ADF Annual Membership Meeting), you get to hear about new projects that are going on.

One of my favourite workshops of the weekend was Ceisiwr Serith's Proto-Indo-European Religion. I can't begin to describe how much I learned from this workshop, and I just sat and listened! Next time, I'm definitely taking my notebook with me to take notes!

I also got to see the channeling that Red Oak Grove does in their rites at the Friday night rite, which was a new experience for me. The bardic circle the next night showed off a lot of talent, and the frogs joined in the revelry from outside the pavilion.

The Symbel was also excellent, and many good oaths and boasts were made. Since I can't transcribe them all, I'll just point out mine: ADF has the greatest community of Dedicants it could possibly want, and I learn new things from them every day. Keep up the great work!

Ian also outlined the Initiate's Program for us again this year, and we finally received a final Clergy Training Program from the Clergy Council!

This was also the first Wellspring where ADF has had more than 1,000 members, as well as the first Wellspring that has seen a Provisionally Chartered Grove outside the USA (congrats to Red Maple). We're seeing a lot of movement in ADF, and it's amazing how much you see here at Wellspring. In the end, Wellspring shows the heartbeat of ADF.

The highlight of my weekend, though, was the Two Powers workshop that Ian lead. It was simply amazing and the best experience I have had with that attunement since before I joined ADF. Words cannot describe the feeling I got from that workshop! If you'd like to experience it yourself, it's available in audio form on the ADF website.

I came out of this festival with new friends, a new appreciation for nature (even when tree bark gets stuck in your hair), and some valuable memories of certain escapades in the Nemeton. I wouldn't trade this year's Wellspring experience for anything, and I'm looking forward to next year, as well.
Pictures from this festival include these: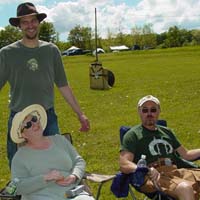 |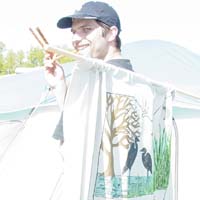 MJD, Jenni, and Kirk laugh | MJD with the TCG Banner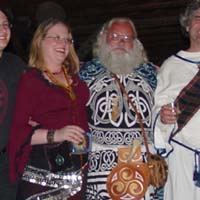 |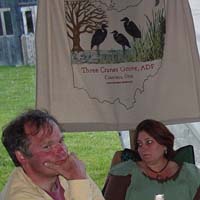 The New Mother Grove | Honorary TCG members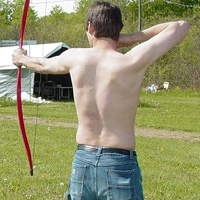 |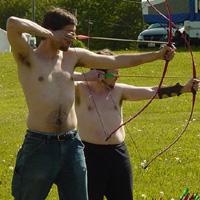 Shirtless archery. Need I say more?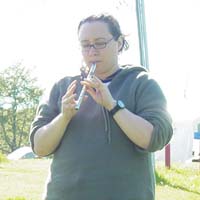 |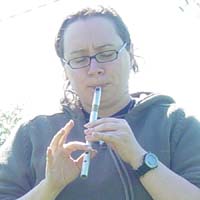 Meghan auditions for the Bardic Guild


|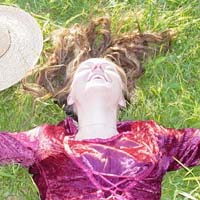 Erien and I handcuffed! | Erien, giggling in the sun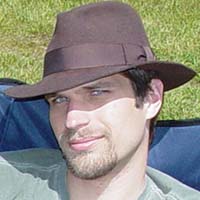 |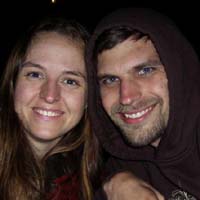 My Fedora and I | Erien and I smile

Content © 2003 - 2005, Michael J Dangler
Updated on 07/01/2005. Site Credits / Email Me!
Basic site design from ADF.org
(Yes, I stole it!)